Explore

Coria, Las Hurdes y Sierra de Gata
Description

Discoverthe regions of Las Hurdes and Sierra de Gata and the city of Coria - destinations full of nature in its purest state, which conserve the architecture, traditions and lifestyles of years gone by.

Las Hurdes are located in the north of Extremadura, bordering the lands of Salamanca.

This is an ideal destination for nature-lovers, with significant aquatic richness: crystal-clear gorges, natural pools like the one at Nuñomoral, waterfalls, the Melero stream... and if you plan to spend the day in nature, you can wander amongst pine and oak forests with exuberant flora.

You can enjoy a day in the countryside birdwatching from the mountains, which are easy to climb and ideal for hiking as they are medium-height in this area. You'll come across some species in danger of extinction, such as the Black Stork, in the quiet places along the rivers and you can see the Black Vulture flying across the skies above.

You can see interesting natural formations, such as the La Meancera Waterfall or the El Gasco Volcano.

When you finish your country trail, don't forget to visit some of the towns that are richest in the area's traditional architecture. Casar de Palomero, Ladrillar or Pinofranqueado are famous for their alquerias with their  houses enteriley made of slate. Furthermore, you'll love discovering its handicraft traditions, such as basketmaking and woodwork.

Regarding its gastronomy, a roll filled with its characteristic cold meats, such as pumpkin-seed black puddings or chorizos, and dressed with a dash of Gata-Hurdes D.O.P. oil will help you get your strength back to continue on your way. If you prefer to eat at a restaurant, be sure to try their roast kid, which is a local delicacy, accompanied by honey and cakes from Las Hurdes.

Coria, the main city in the Alagón Valley, offers an ample range of accommodation and its historical quarter, declared of Cultural Interest, is well worth a visit: a walk through its streets will take you back to the city's past, to the times when Romans and Arabs raised its walls.

You can admire the keep and the turrets of the Dukes of Alba's castle and, of course, the splendid Asunción Cathedral - a Gothic-Renaissance temple, the work on which went on throughout the 14th to 18th century, giving rise to an interesting superposition of styles. A few metres way, we find the high seminary, a building from the 17th century.

There's a lot to see in Coria so you can stay a few days and continue your tour around the Madre de Dios Convent, the Episcopal Palace, the Church of Santiago, with a mannerist altarpiece and imagery from the 16th to the 18th century, or the Royal Prison - now the City Museum. Its botanical gardens display a good representation of the Mediterranean flora of Extremadura.

You can continue with a visit to the Sierra de Gata region - a paradise that is sure to surprise you: from Coria, you will come to Cilleros, well-known for its wines and vineyards and, from here, you can head towards the most western area of the region and visit singular towns, such as Trevejo and San Martín de Trevejo, which a series of circumstances lend a special beauty and personality to: meticulous interior architecture, water running through the streets, landscapes filled with chestnut trees... Essential parts of your trip.

Here you'll come across the characteristic dialect of the people with its Portuguese influence - "a fala".

At lunch time, we recommend a good traditional stew or any of the succulent dishes made with wild mushrooms as the Sierra de Gata is a mycological paradise. If you've planned your getaway for autumn or winter, you can set aside part of your time to enjoy a walk through the countryside looking for these woodland delicacies: you'll find a large variety, amongst which the highlight are the ceps.

Later, you can visit the eastern area of Sierra de Gata, passing through Acebo and Perales del Puerto, characteristic for their mountain architecture, where the timberwork in the buildings is done mostly in chestnut wood.

The next stage of the journey will take you through Santibáñez el Alto, which still has a Muslim castle, which was taken years later by the knights of the Order of Alcántara.

In Torrecilla de los Ángeles and Villanueva de la Sierra there are lots of mountain-style stonework buildings and in Torre Don Miguel you will find a country estate where you should visit the numerous samples of religious architecture from the 16th century, including the Hermitage of Christ and the Casa de la Encomienda.

The town of Gata will dazzle you with its impressive altarpiece in the Church of San Pedro (a work by Pedro de Paz) and the coat of arms of Charles V at "El Chorro" fountain.  The historic site of this town has been declared Cultural Heritage Site.

Cadalso was home to Alfonso IX in its day and is surrounded by lush vegetation.

You'll also love wandering through the little streets of Descargamaría while you try one of its delicious cakes made with fresh eggs as an afternoon snack, just before you head to Robledillo de Gata - one of the most beautiful towns in these mountains, declared of Cultural Interest: here you can pay attention to its particular architecture with wooden houses, some with painted murals, next to a little stream with picturesque cascades. Without a doubt, its position bordering the region of Las Hurdes lends it a special personality.

Features

Theme:

Art and culture
Destinations
Leisure
This municipality in Cáceres, holding the Cultural Heritage Site designation, has its own language and boasts many monuments.
Location:
Plaza Mayor 1 San Martín de Trevejo, Cáceres (Extremadura)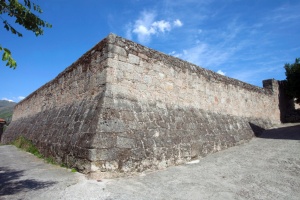 Visit the ruins of what was one of the most important fortresses in Sierra de Gata: Eljas Castle.
Location:
Eljas, Cáceres (Extremadura)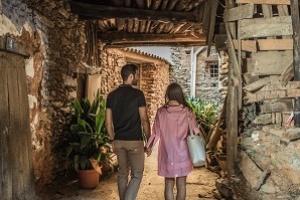 In Sierra de Gata Mountains we come across this small town, with special architecture that makes it unique.
Location:
Plaza de Francisco Pizarro, 1 Robledillo de Gata, Cáceres (Extremadura)