Description

Enjoy the beauty of a place yet to be discovered, where nature and culture are a perfect match.

If you love nature and culture then this is the place for you, where there is an abundance of plantations of cork trees, walnut trees, Pyrenean oaks, etc. which form part of the make-up of the ecosystem of this Geopark. There is also a wide variety of fauna: deer or wild boar.

Guadalupe is the capital of this geopark and should not be missed. Here you will discover religious art at its most splendid, represented by the Royal Monastery of Nuestra Señora de Guadalupe, declared a World Heritage Site in 1993. Here you will find a range of items from relics to paintings by Zurbarán and El Greco, and you will delight in works from different periods ranging from the Mudejar to the Baroque via the Renaissance.

Don't miss the Historic Site of La Puebla, where the narrow streets and porticoes are rife with monuments such as the School of Los Infantes, the Church of La Trinidad, the Medieval Arches and the former Jewry.

After a tour of the architecture of Guadalupe we suggest you make your way to the Villuercas-Ibores-Jara Geopark, where you'll be amazed by the spectacular landscapes and its rich paleontological remains. 

In this geopark you'll discover other villages of great beauty and with gastronomic delights. Nevertheless, what will most surprise you in this geopark is the abundance of cave paintings to be found the length and breadth of the park. You'll also delight in the beauty of its cliffs and such geosites as the Cave of the Chestnut Grove, the Costanaza Mine and the Pedroso Gorge.

If your aim is to discover more, then all you need to do is fix the time and place and remember that Extremadura has so much to offer.

Features

Distance:

50 km

Time:

Weekend

Theme:

Art and culture
Nature areas
Leisure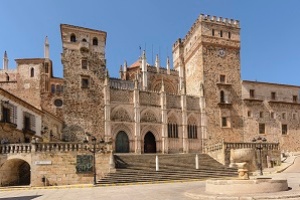 The Royal Monastery of Santa María de Guadalupe is the most important monument in the town, the services offered by which are a genuine plus for all visitors.
Location:
Plaza de Santa María de Guadalupe, s/n Guadalupe , Cáceres (Extremadura)