Come to Extremadura and enjoy experiences with real flavour. Sustainable gastronomy routes and first-rate products.
Extremadura Gourmet is an initiative of the Directorate General of Tourism in order to promote gastronomy tourism in the region. It aims to bring together the infinite expressions of Extremeñan gastronomy through different initiatives, among them the Sustainable Gastronomy routes and support for events and projects based around gastronomy and promotion of the centuries-old legacy of the local cuisine.
Sustainable Gastronomy Routes
The Sustainable Gastronomy Routes of Extremadura place the value on the products and promotes the narratives around some of our most representative and unique foods, such as our ham and ibérico products on the "Dehesa de Extremadura Ibérico Ham Route", our cheeses on the "Extremadura Cheese Route", our extra virgin olive oils on the "Extremadura Olive Oil Route" and our wines and viticulture on the "Ribera del Guadiana Wine Route". 

Through these routes, one can discover Extremadura differently, the common thread being food that connects knowledge of our culture, heritage and nature. Discovering the essence of this land, intimately linked to its rural environment, its landscapes, biodiversity and traditions.
Articulated as product clubs, they group together different types, from tourist products (hotels, rural guest houses, travel agencies, tour guides, activity companies, restaurants, etc.) to producer or services companies (cheese, ham cellars, livestock estates, oil presses, gourmet shops, wineries, etc.) that offer unique tourist experiences such as being a cheese maker or shepherd for the day, visits to cheese producers, ham producers and the dehesa, olive oil producers and wineries to find out about the origin and the production of these products, deepening their understanding in museums and specific interpretation centres, guided tours and walks through vineyards and olive groves and, of course, tastings of all the wonderful produce.
The gastronomic identity of Extremadura is marked by the influence of the different cultures that have inhabited these lands: Roman, Visigoth, Arab and Sephardic, as well as the influence of pastoral cooking and the recipes prepared at the convents of Guadalupe, Yuste and Alcántara and its proximity to Portugal.
We must add to this the extraordinary quality and variety of the raw ingredients produced in our fields, worthy of international renown, such as our acorn-fed ibérico ham, lamb and Ternera de Extremadura beef, paprika from La Vera, Torta del Casar, La Serena and Ibores and chesses, olive oil, Jerte cherries and Ribera del Guadiana wine and cava. Then there are our tomatoes, stone fruits, figs, asparagus, rice, honey, wild mushrooms and game.
Twelve Designation of Origins and four Protected Geographic Indications demonstrate the quality of our produce.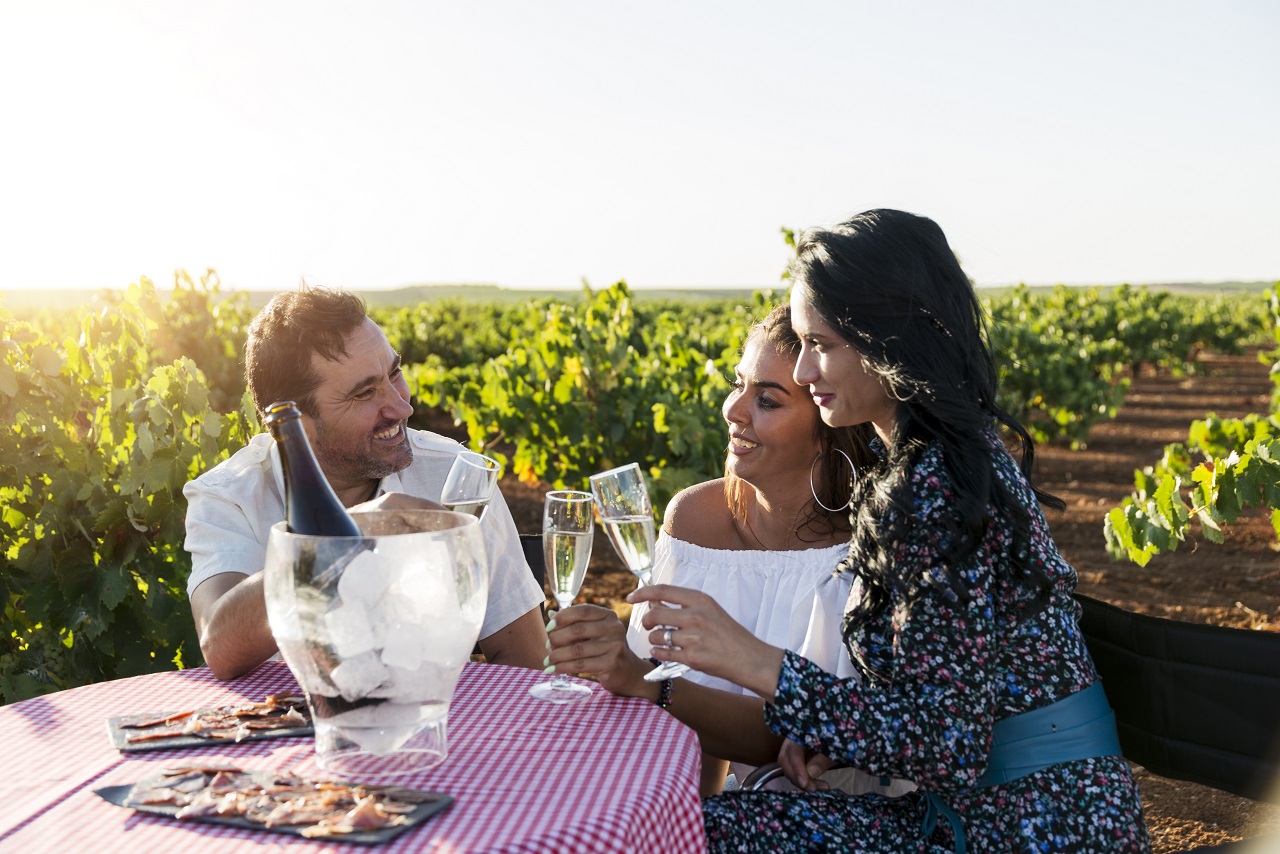 Avant-Garde gastronomy
With a roll of honour like that, not even the most discerning gourmands will be left indifferent when savouring the delights of our gastronomy at the many fine restaurants that, along with the traditional recipes, have innovated to offer visitors cutting-edge, contemporary cooking.
And those honours are not just for the products but have also been won by restaurants, chefs and cities. There's Atrio, with its two Michelin stars and three Repsol Guide suns. The restaurants Torre de Sande and Javier Martín in Cáceres and Marchivirito and Galaxia in Badajoz have also been awarded with one Sol. Then there is the recognition for Cáceres as Spanish Gastronomic Capital in 2015 and Mérida as Ibero-American Capital of Gastronomic Culture in 2016.
Gastronomy forms part of our culture and defines many of our most unique traditions and celebrations. Many festivals and events are held throughout the year to celebrate food items. Some of them have been declared Festivals of Tourist Interest of Extremadura, such as the Pedida de la Patatera in Malpartida de Cáceres, traditional Extremeñan Matanza festival in Llerena, La Chanfaina in Fuente de Cantos, el Martes Mayor in Plasencia, the "Día del Jamón" festival in Monesterio, the harvest festival in Villafranca de los Barros, La Tenca in Tajo-Salor and the Cross-border Gurumelo Mushroom Festival in Villanueva del Fresno. There are events like the Trujillo International Cheese Fair, the Salón del Jamón in Jerez de los Caballeros and the Spring Wine and Gastronomy Festivals in a number of the wine growing regions of Extremadura.

These festivals help promote the gastronomic culture of Extremadura and other organisations like the Confraternity and the Extremeñan Academy of Gastronomy.
Savour our gastronomy and forget your troubles. The quiet life in our villages and cities will allow you to enjoy the quality of our natural, autochthonous products, reviving the traditions of the past and savour our cooking. Come and enjoy the flavours of our land. Extremadura Gourmet awaits.
More information: GASTRONOMY GUIDES