Come to Extremadura

Festivales de teatro y espectáculos
Extremadura offers dance and theatre shows, as well as many other tourist attractions in a magic enviroment
Extremadura has a stunning programme of cultural events
Art and culture are at the heart of the Extremadura heritage, and there is a growing offer of shows and performances.
All the region's a stage
Extremadura hosts several famous theatre festivals that are not to be missed. Classical authors are present in the Festival of Classical Theatre of Cáceres (June and July), which includes theatre shows, routes around the city, cinema, workshops and other proposals regarding the monumental ensemble of Cáceres, which has been awarded World Heritage Site by UNESCO.
The Festival of Classical Theatre of Alcántara, in August, is considered as one of the most important in Spain, due both to its programme and its many complementary activities and, especially, its unique setting: the Conventual de San Benito, a magical convent turned stage.
And, through the entire summer, Mérida hosts one of the main cultural events in all Spain: the International Festival of Classical Theatre of Mérida. From June through August, tragedies and comedies are performed by the best Spanish actors on the stage of the Roman theatre of this city, which has been awarded World Heritage Site status.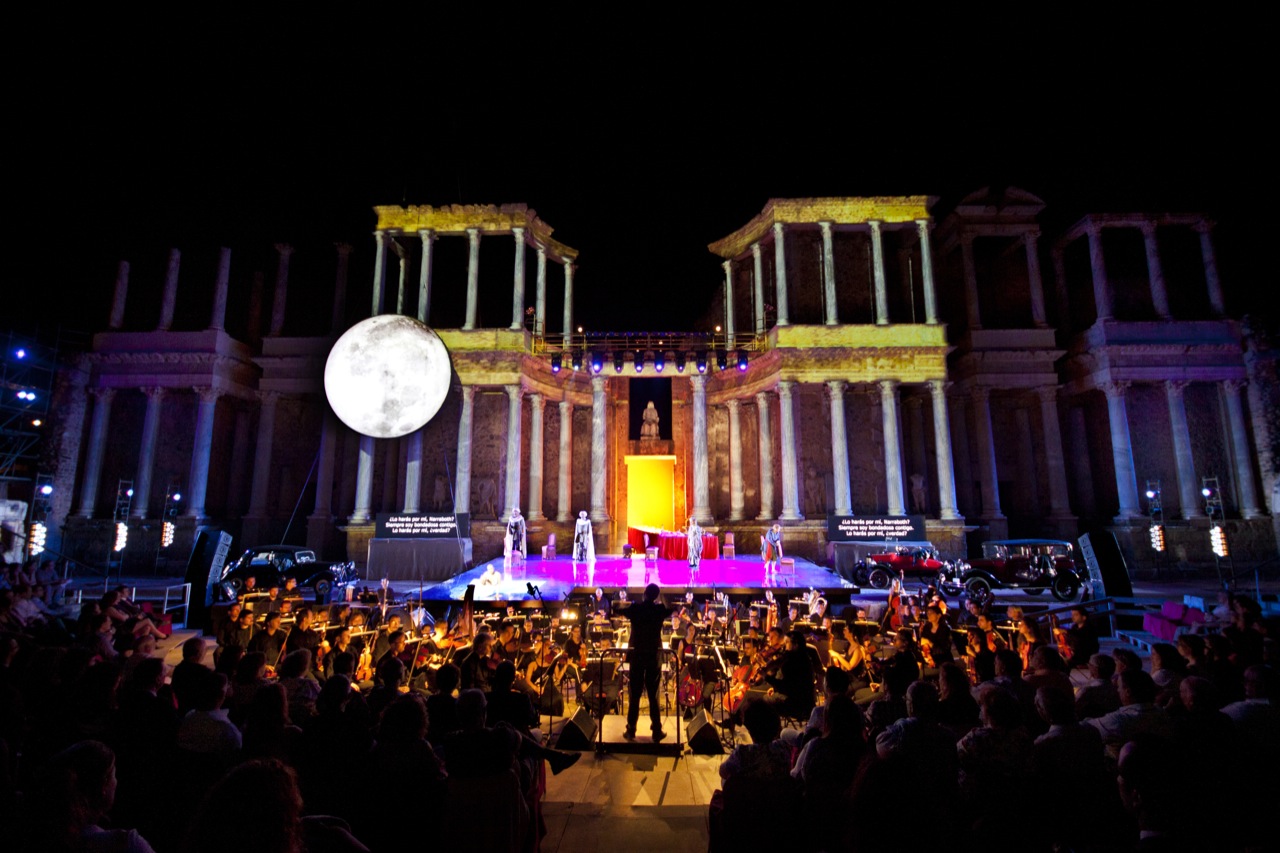 Minor performances take place in other stages, such as in the Temple of Diana, and there is an additional programme of films, exhibitions, training workshops, parades and classic storytelling for children. The Festival has extended to the Roman theatres of Medellín and Regina, in the province of Badajoz, and Cáparra, in the province of Cáceres.
Every April, Mérida also holds the European Youth Classic Theatre Festival, which is intended for a younger public and features plays performed by youth theatre groups from all over Spain and from abroad.
The Old Town of Coria also holds a Theatre Festival in July with the Plateresque façade of the Coria Cathedral as a backdrop. On top of that, in August, Calderón de la Barca's famous play The Mayor of Zalamea are performed in the very village in which the play is set: Zalamea de la Serena. And, finally, the city of Badajoz holds an International Festival of Contemporary Dance and Theatre in October and November.
Street performances
Starting in Spring, there are street performances all over Extremadura:
In Hervás, the Festival Titiriteros y Trotamundos, literally "of puppeteers and globetrotters" (April) includes puppeteer and other shows for public of all ages by national artists and companies
The NoSoloCirco Extremadura Festival of Contemporary Circus (May) is held in the towns of Navalmoral de la Mata, Talayuela and Jarandilla, and presents performances of different top-level circus companies.
The International Festival of Street Theatre (July) in Villanueva de la Serena includes shows of all kinds: circus, theatre, music, parades...
A distinct programme
Over the summer, other interesting proposals are held throughout the town. Extremagia (June) is an international festival of magic shows that takes place in different spaces in Don Benito. For a week, the town is all tricks and amazement. The festival includes an interesting programme of side activities.
And the cities of Extremadura take turns to host the International Folk Festival of Extremadura (August) offers a programme of music, dance and theatre to show the culture of certain towns from Extremadura and guest countries.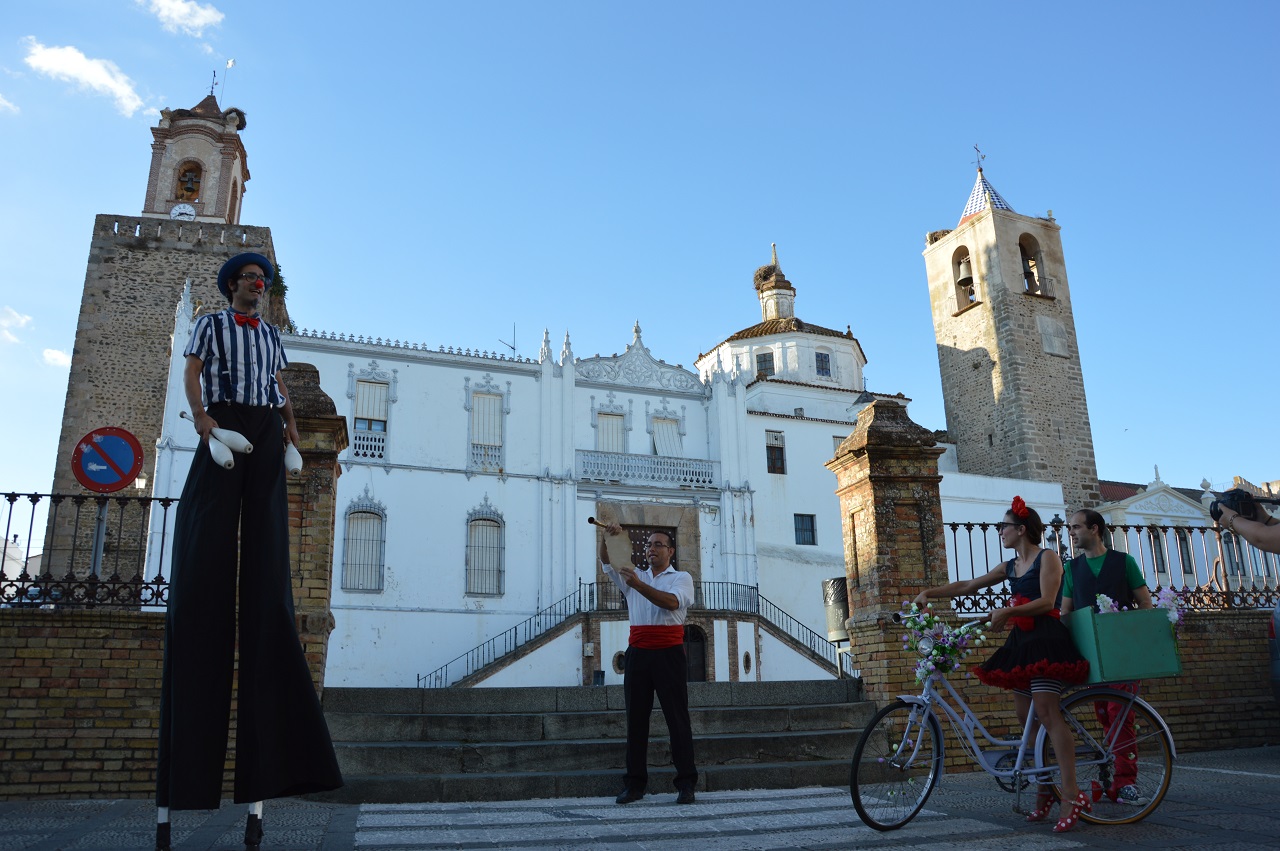 Tips for theatre lovers
A visit to a new place can be rounded off with a good show. The Extremadura Theatre Network includes 46 theatres, 34 in the province of Badajoz and 12 in the Province of Cáceres, and has an interesting drama programme for every taste.
Event agenda
https://www.turismoextremadura.com/es/recursos-turisticos/evento/index.html
Theatres and  cultural venues in Extremadura: