Come to Extremadura

Planes en familia
From nature activities to historical reproductions - Great breaks with children in Extremadura
Get in the time machine
Yes, you read it right. Many towns and villages of Extremadura have a time machine which they operate at least once a year. These are not simple fancy-dress parties or processions with good intentions and little historical accuracy as to costume and performances. Quite the opposite. The people of Extremadura take historical reproductions seriously and locals and visitors alike of all ages take part.
Let us introduce you to some festivals with a lot of history. In May La Albuera recalls one of the most important battles of the 19th-century Peninsular War in which Spanish, Portuguese, and English troops came up against the French army. Emerita Lvdica in June relives the Mérida of the Roman Empire with fights between gladiators, taverns, and markets of the time, and workshops for Roman games toys and the theatre. Jerez de los Caballeros and Alburquerque return to the Middle Ages with the Templar Festival (July) and the Medieval Festival (August) respectively. The Royal Wedding (August) in Valencia de Alcántara recalls the marriage of the Infanta Isabel, the daughter of the Catholic Monarchs, and the Portuguese king Manuel The Fortunate which took place in this frontier town in the 15th century. Also in August, hundreds of inhabitants of Zalamea de la Serena perform the play 'The Mayor of Zalamea' by Calderón de la Barca. And in September Badajoz relives its foundation by the Arabs over 1,000 years ago with Almossassa, which features storytellers, theatre, falconry, an Arab market, and children's activities.
There is a beach in Extremadura
Who said that we have no beach and that you can't sail our waters? Our 1.500 kilometres of inland coast are unique in Western Europe; we have over 50 natural swimming pools, ravines, river beaches, and reservoir beaches in landscapes of great beauty, and the first blue flag awarded in Spain to an inland beach (Orellana la Vieja). Tourist cruises on the Rivers Tajo (Tajo Internacional Nature Reserve), Alagón, and Guadiana (Great Lake of Alqueva). Schools which give sailing and windsurfing classes, national water sport competitions, canyoning…
Extremadura has no need to envy 'sun and beach' destinations and offers a thousand and one refreshing possibilities for the whole family. Sierra de Gata, Las Hurdes, Valle del Jerte, Plasencia, Valle del Ambroz, La Vera, and the Villuercas-Ibores-Jara Geopark include most of the bathing areas of Extremadura. In Badajoz we can take a dip in places prepared for the purpose in La Siberia, La Serena, Vegas Altas del Guadiana, Mérida (the Roman reservoir of Proserpina), La Codosera (River Gévora), and Cheles (Alqueva), among others.
On this water map there is also a water park in the city of Badajoz with everything necessary for fighting the heat and having a good time: a wave pool, chutes, rapids…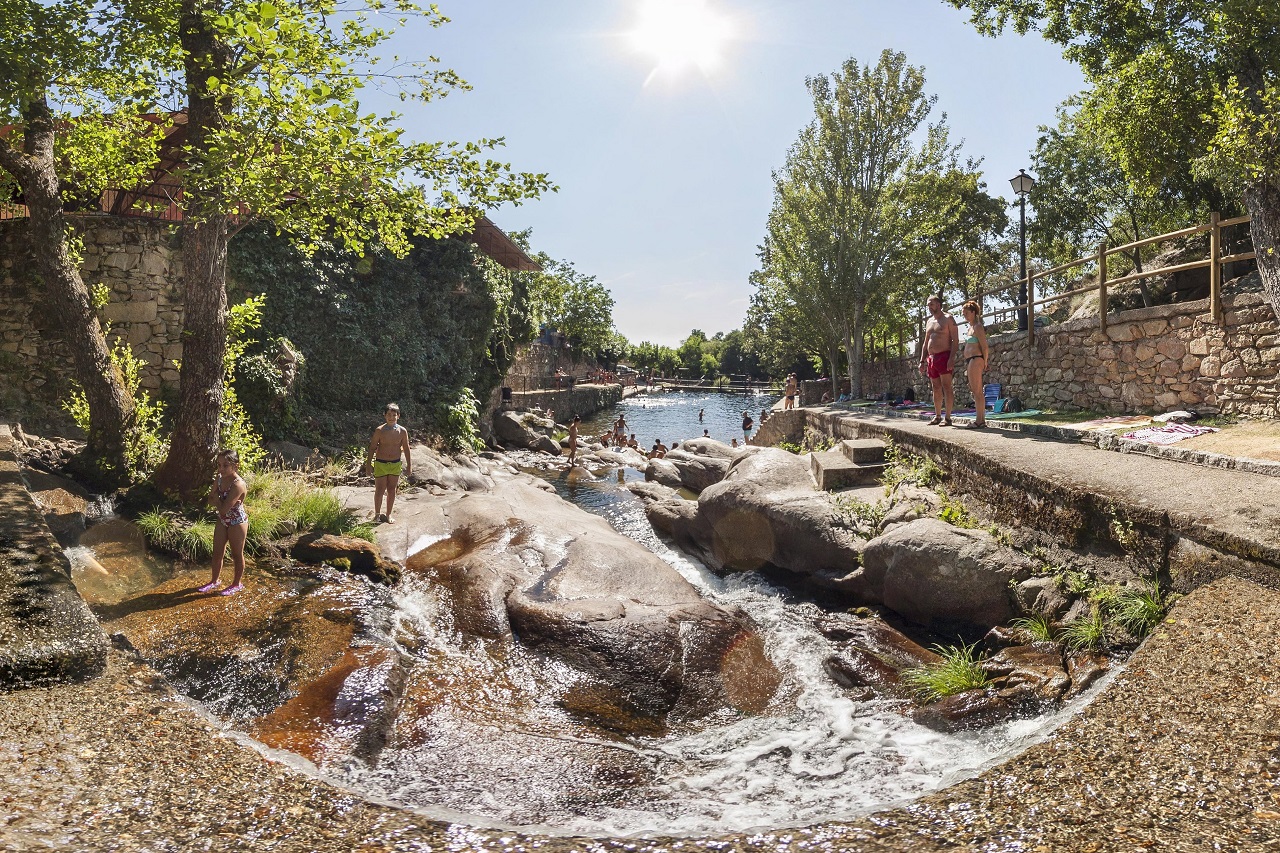 Nature parties
Any excuse is valid for going into the country and marvelling at the landscapes of Extremadura. The calendar is full of plans for all which combine hiking routes, children's activities, concerts, animation shows, gastronomy, and traditions. One of the most representatives is the Festival of the Cherry Tree in Flower of the Valle del Jerte, of National Tourist Interest, which celebrates each year the flowering of over one and a half million cherry trees. Weeks later this district celebrates the gathering of its most valuable fruit at La Cerecera (June and July) in which children can have a sensational experience: picking cherries from the trees with their own hands guided by the wise advice of the local producers.
Autumn, with its palette of ochres, browns, and yellows features in numerous events related to nature such as 'Magic Autumn' in the Valle del Ambroz (Festival of National Tourist Interest), 'Geodisea' at the Villuercas-Ibores-Jara Geopark, 'Begin to dream - Autumn in the Sierra de Gata', and 'La Otoñada' in the Valle del Jerte among other initiatives which always include programmes for children.
Where birders lose themselves
Over 330 species of birds can be seen in Extremadura throughout the year; 75% of its territory is considered to be an Important Spanish Bird Area. There are some 70 Special Bird Protection Areas (Zonas Especiales de Protección de las Aves, ZEPA), many of which can be found in built-up areas such as Cáceres, Trujillo, Almendralejo, and Zafra. The region has been a pioneer in Spain with the creation of a Birding Club which brings together tens of rural accommodation establishments, nature guides, travel agencies, and companies specialising in organising field outings.
For these reasons Extremadura is considered to be a point of reference in ornithological tourism. Its most emblematic natural spaces such as Monfragüe National Park receive the visits of thousands of Spanish and international birders equipped with cameras, binoculars, and telescopes.
The region has specialised in the organisation of events which disseminate its ornithological richness and encourage respect for the environment and sustainable tourism. The International Fair of Ornithological Tourism (Feria Internacional de Turismo Ornitológico, FIO) in Monfragüe (February), Stork Week in Malpartida de Cáceres (April), the 'City of Cáceres' Bird Festival (May), the Swift Festival in Alange (May), and the Crane Festival of Navalvillar de Pela (December), among others, organise workshops of drawing, handicrafts, shows, and routes accessible to all.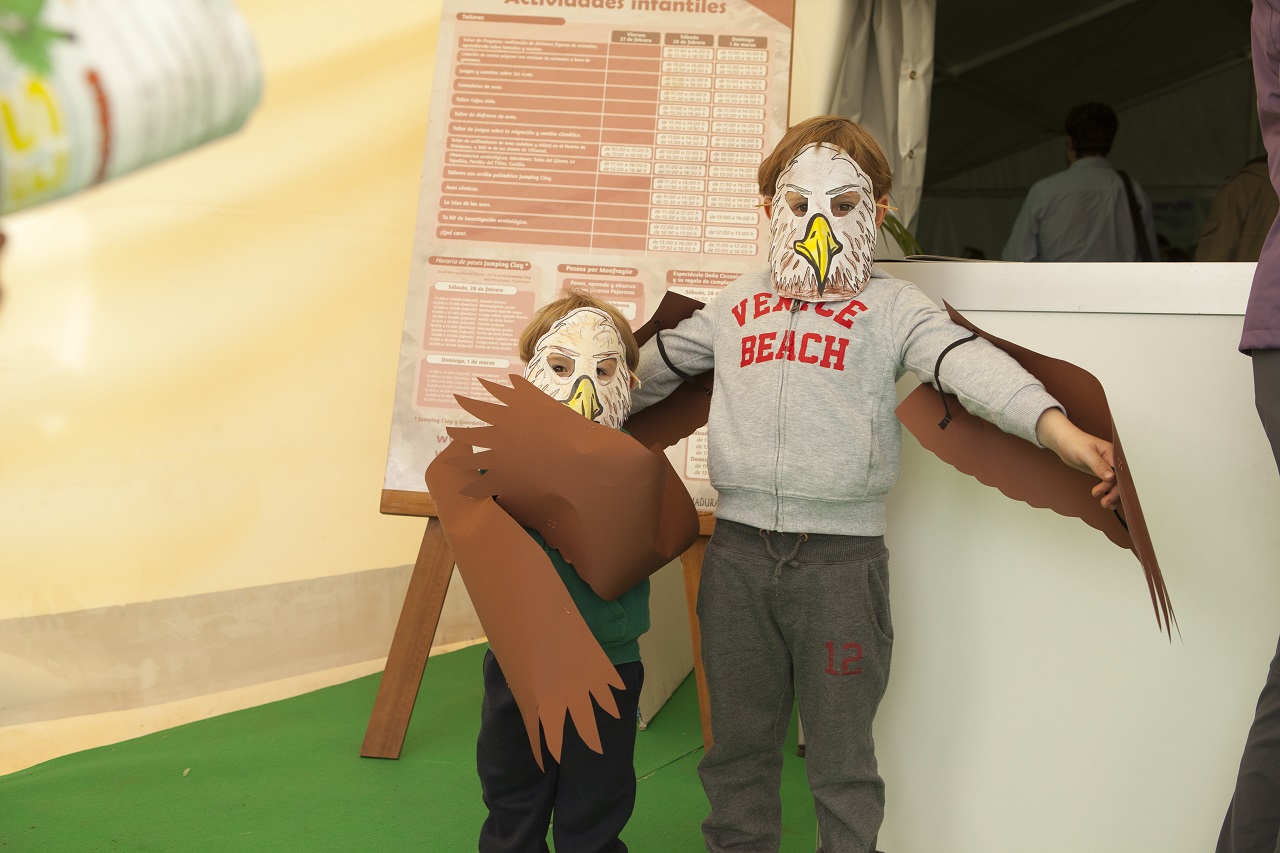 Counting stars as a profession
The skies of Extremadura are ideal for contemplating planets and stars. The low light pollution, the mild climate with a large number of clear days per year, the existence of spectacular locations, and the growing involvement of institutions and companies to encourage this activity make the region a paradise both for experts and for those intrepid home astronauts and astronomers.
Throughout the geography of Extremadura it is easy to find wonderful places from which to observe the night sky (Las Hurdes, Tajo Internacional, Valle del Jerte, Valle del Ambroz, Sierra de Gata, La Siberia, Sierra Suroeste, Campiña Sur, Tentudía…), but special mention should be made of the Monfragüe Biosphere Reserve and the Great Lake of Alqueva, territories which hold the Starlight destination certificate which guarantees ideal conditions for astrotourism.
In Trujillo kids will have a whale of a time at the planetarium installed in the Conventual de San Francisco, a historical 16th-century building. It is the largest mobile planetarium in Spain with its 12 metres in diameter and a capacity of up to 50 people per session.
Adventures in museums
Extremadura can boast excellent museums which explain the history of humanity and house valuable art collections. We will give you two suggestions which will arouse the curiosity of young adventurers:
The National Museum of Roman Art of Mérida (MNAR), which is one of the most visited in the country, brings together the archaeological treasures of Emerita Augusta and gives a comprehensive vision of the times of Hispania. Its collections are outstanding in both quality and quantity and include interesting exhibits of sculpture, mosaics, and coins. The MNAR organises numerous activities for children, especially in the summer.
Malpartida de Cáceres is the location of one of the most original museums in Spain: the Vostell Malpartida, which was inaugurated in 1976 by the German artist Wolf Vostell (1932-1998), a co-founder of the Fluxus movement and a video art pioneer. This enthusiast of Extremadura designed a museum perfectly integrated in the magnificent landscape of Los Barruecos, in which children will be amazed by the works of arts made with cars, motor-bikes, and televisions.